Muscle and Joint Cream Cooling Formula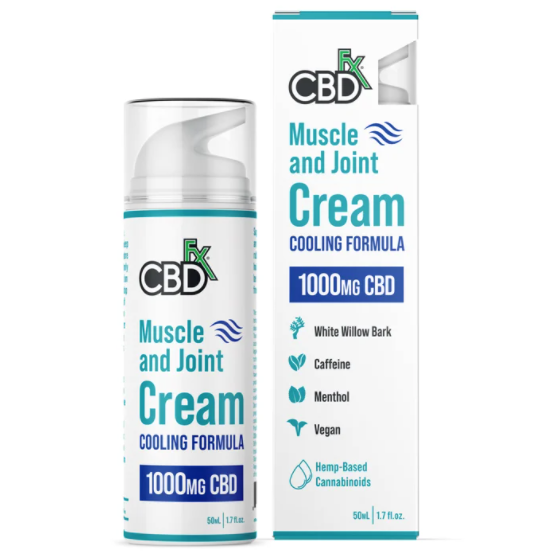 How much CBD hemp cream should I use for it to be effective?
Depending on the size of the target area, you can start with anywhere from a dime size to a quarter size amount.
What factors should be considered when choosing a concentration?
You should consider your experience and tolerance to CBD products, as well as the level of your discomfort. Some people tend to start off with a lower concentration and work their way up, but if you know you tend to experience higher levels of discomfort, you should consider the higher concentration.
When is the best time to use this CBD lotion?
You can use the cream whenever you feel muscle and joint discomfort. This cream is great to ease muscle and joint soreness after any strenuous physical activity, but also great for those of us who just deal with tightness in certain areas on a daily basis.
How long do the effects of the hemp cream last?
You can expect this cream to provide relief for a few hours. However, the cream can be reapplied as often as needed or at least every 4-6 hours.
What effect does caffeine have on sore muscles?
CBD, white willow bark, caffeine, and menthol are a force to be reckoned with when your muscles and joints are troubling you. The compounds of CBD work in harmony with the powerful anti-inflammatory effects of white willow bark and caffeine. The menthol is the finishing touch, covering the area with a lasting cooling relief. This cream won't miss a trip to the gym once you feel the magic!
Does this CBD cream have any psychoactive effects? Will it get me high?
No, hemp-derived CBD has less than 0.3% THC, so you don't have to worry about any unwanted intoxicating effects.
What are the benefits of combining CBD with botanical ingredients?
Botanical ingredients, such as the white willow bark impart their own benefits that many have relied on for centuries. Let's not forget, that before pharmaceuticals came around we all depended on natural ingredients from nature. Here at CBDfx, we always strive to incorporate all-natural ingredients that bolster the effects of CBD.
What can this CBD cream be used for?
This cream is great for anyone who suffers from any sort of muscle and joint discomfort. Whether you're hitting up the gym, or putting in work around the house, this cream is great to ease any soreness that tries to sneak up on you.
Find our CBD Muscle and Joint Cream by clicking here.